By: Anna Schroeder:
According to an article by Ocean Crusaders, there is now around 5.25 trillion pices of plastic waste alone in the ocean. This same article claims that around 100,000 marine animals are found dead each year due to plastic entanglement (many more are never found).
As time goes by, more and more plastic and other disposable man-made products are being manufactured. Along with the increase in production, there is also a steady increase in how much of this garbage ends up in the ocean. The United Nations Environment Programme estimates that around 80% of ocean pollution originates on land.
This video, posted to YouTube in January of 2019 shows just how much plastic pollution can be found in the waves near Bali, Indonesia:
While the effect this kind of pollution has on all kinds of marine life is undeniably extensive, animals are not the only ones who suffer from the state of the ocean. According to an article by the NRDC, pollution in the ocean near areas that are used as beaches or swimming spots can cause harm to those who spend time in the water. "Polluted waters may contain disease-causing organisms called pathogens." These organisms can cause diseases such as meningitis, hepatitis, skin rashes, pink eye, respiratory infections or the stomach flu.
However, direct contact with polluted water is not the only concern. The overall damage that polluted and unsafe ocean water can cause may affect everyone living on our planet. This infographic released by Planet Aid explains just a few of the many reasons why human beings depend on the ocean:
Not only do we rely on a healthy ocean to supply food and water, but it also plays a huge role in the quality of our air and climate.
Ocean pollution is a big problem, but there are multiple organizations that have undertaken the task of improving the health of our oceans. Greenpeace is just one of these groups that is focused on preventing plastic waste from entering the ocean. They have formed a petition requesting big corporations to "do their part to end plastic pollution!" Greenpeace also suggests ways individuals can help in diminishing pollution on a daily basis, such as limiting use of plastic, utilizing reusable containers, collecting and recycling any plastic litter, and spreading the word about the damages of ocean pollution. Organizing a beach cleanup is another great way to get involved in the cause.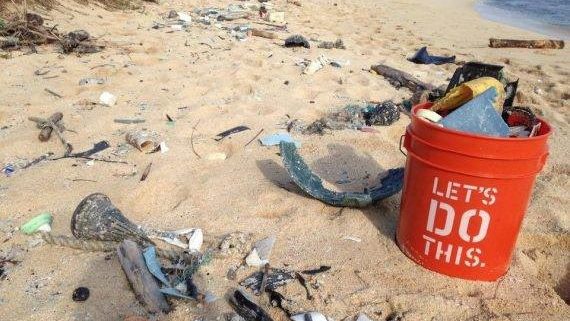 Many Institutions are making great strides toward better environmental awareness practices. For example, Assumption College's Greenhhounds club was formed in order to "promote sustainable practices at both the individual level and the campus community." This group promotes healthier practices on campus such as recycling, food waste management, and Fair Trade awareness. Even small organizations like these make an impact and aid in the prevention of ocean pollution and other environmental hazards.